Dear Class of 2013,
When I first saw the class banners of generations past hanging in the Campus Center during freshman orientation, my lips curled. It's not that the designs are uninspired or the quotations trite. The problem was, they all bore the marks of the tools that made them: MS Paint, PowerPoint WordArt, clip art, all the visual banalities of desktop publishing. Some were more interesting than others, but none of them transcended their roots. None of them were truly beautiful. I swore then and there to make a better one for my graduating class, if the chance arises… and it did.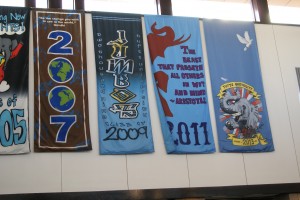 To the right, to the right…
I think it turned out okay. I've had some nice feedback from people about it, for which I thank you all. Since graduation is coming around I thought I'd make this a graduation gift. It's not perfect; I'm sure many of you could have done better, but what the heck.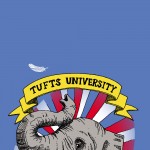 Download Full JPEG (1000 x 2449, 517KB)
Tufts Class of 2013 Class Banner by Vivien J. Lim 
is licensed under a Creative Commons Attribution-ShareAlike 3.0 Unported License.
Just click to download a JPEG and/or an SVG file of the banner. And, as something of a social experiment, I'm putting a donate button. How much is this worth to you? If you choose to donate, thank you.
After that, you can do anything you want – including, yes, changing Tufts blue to Harvard crimson and hawking giclée prints on Indian websites for thousands of rupees – as long as you attribute the original image to me and share the resulting image under the same license. It would be nice to send me an email or leave a comment below so I can check out the cool stuff you're doing!
Unfortunately, I can't graduate in the spring of 2013, which I guess makes me technically a member of the class of 2014. Alas, I lacked the foresight to make a banner for them, so I'm stuck with, well, something I didn't make .
Eh, whatever. 2013!
Sincerely yours,
Vivien